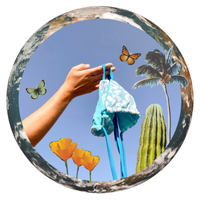 sustainability is sexy
From sourcing materials exclusively from the US to ensuring all packaging is waste free, sustainability is at the heart of everything we do. We want you (and mama earth) to feel good about purchasing from us!
TELL ME MORE!
our story
Hi there! We are sisters Mallory and Shannon, and together we hand make all the bikinis (and scrunchies!) you see on this site. Browse around, stay awhile, and let us know if you have any questions!
Read more